Welcome to the Oak, Ash, and Thorn Photo Album
Pictures. You want pictures of us? Jeez, that's going to be tough. We try to be a moving target, both onstage and off, so there aren't too many really flattering shots in our album(s). The follwing are fairly representative of our frontal elevations and should be easily reconizable to our audience. Our creditors of course, are more familiar with our back sides.
Click on the small pics below to see an enlargement, but beware: they may take awhile to download via modem. But, Oh, the quality! You can see the stars in our eyes and the beer moving past our adam's apples.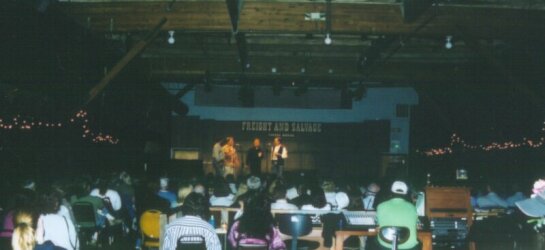 A Panoramic view from the June 7th gig. Thanks to Emily, Doug's daughter, for giving us the first ever shot that includes the whole house. Our other snappsters have been so preoccupied with closeups that they missed the Big Picture.
We're going to miss the Xmas tree lights in the new venue in downtown Berkeley; maybe they could come along??
Photo by Emily Olsen.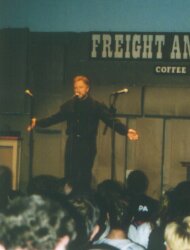 Shay Black, of Black Brothers fame and Wooly Hat wrangler at the Starry Plough kindly consented to open for us with some songs from his Liverpool days. Thanks Shay! You sure know how to stir up a crowd. When we try that sort of thing, people start yelling for a rope...three ropes.
Photo by Emily Olsen.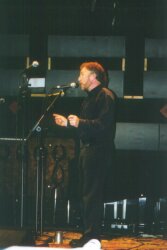 Shay again, a closer shot featuring his sub fusc attire. Wear dark clothes and move around a lot; you're harder to hit and can slip away into the night should the need arise. Hawaiian prints on the other hand just make you a target. Working with Shay was a great learning experience on so many levels...
Photo by Emily Olsen.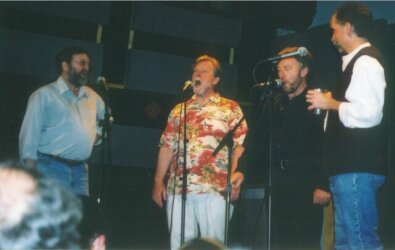 Speaking of targets...the owners of the cufflink, marble, Tic-Tac, and small change that I coughed up backstage can re-claim their property by meeting me at the far end of the Golden Gate Fields parking lot (near the Bay) at midnight on the 30th.
Photo by Emily Olsen.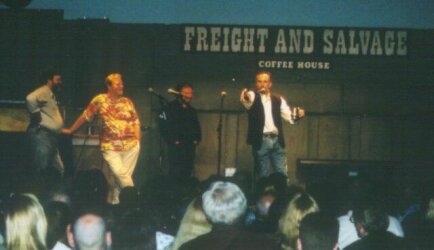 Fly-fishing for Live Ones with Dave Swan. The Bubba Brigade looks on from the bank, bemused yet clueless.
Photo by Emily Olsen.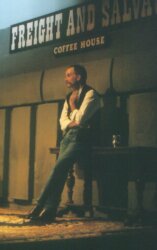 Dave taking a short break, reserving his powers for the next Woad installment.
Photo by Emily Olsen.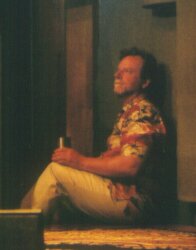 Tom giving his shirt a rest.
Photo by Emily Olsen.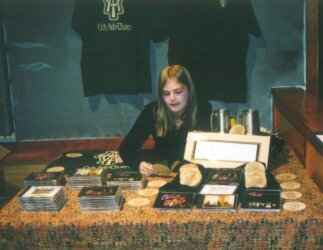 Rebecca, the other half of Doug's daughters, mans...uh, womans the Product Table. She kept running out of change...and now she has a new stereo system. Doug's raising her right, no worries.
Photo by Emily Olsen.

---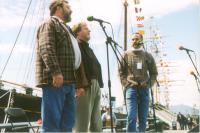 Chantying at the Festival of the Sea with the gale at our backs and the audience completely at sea. It was a beautiful, windy day, full of sun and good music from the likes of John Roberts, Shay Black, Alisdair Frasier, Tommy Peoples, Holdstock & MacCleod, Dogwatch, Louis Killen...for once we may have had more fun in the audience than onstage!
Photo by Peter Kasin.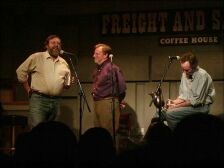 Doug telling another Shaggy Vicar story, complete with hip flask and footnotes. F&S June 2002.

Photo by Charles Kratz.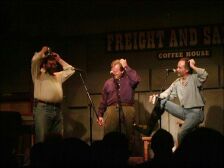 Doug also had decided that a juggling set might spice up the act a bit after seeing his second Cirque du Soleil performance.
Dave and I plan on working with umbrellas or so'westers next time.

Photo by Charles Kratz.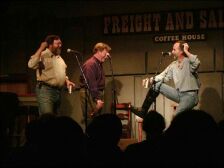 We (and our audience) got a fair amount of mileage out of Dave's new footgear during this performance. Tip from Sparky: don't try bounding up your staircase like a young gazelle when you have the bones of a scrofulus sparrow.

Photo by Charles Kratz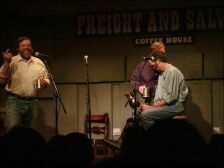 Sometimes I need to translate for Dave, particularly when he's on medication.

Photo by Charles Kratz

---

Dave: The Woad Intro. Inter-Pictic Missiles. 6/17/2000.
Photo by Michael Jhon.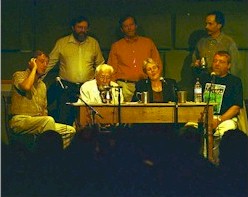 Singing our 'Sorrows Away!' with the Copper Family at F&S.
Photo by John Francis.


Doug @ F&S, singing out. 6/17/2000.
Photo by Michael Jhon.



Tom @ F&S, trying to focus. 6/17/2000.
Photo by Michael Jhon.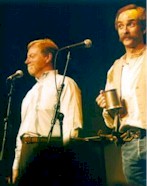 Dave, was it something I said??
Photo by Michael Jhon.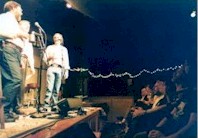 Our loyal front row. They work without rain gear or saftey glasses!
Photo by Michael Jhon.


OAT @ Freight & Salvage, June 17, 2000.
Photo by Michael Jhon.

---


Definitely the Largest House we've played to date. (P.S. We won!!!)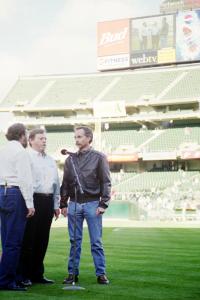 OAT Singing the National Anthem at the Oakland Coliseum. Diamond Vision never looked better…at least to us! 7/9/2000.
Photo by Pam Swan.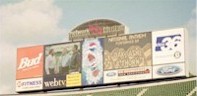 OAT Sings the Anthem. We're finally trading on the Big Board! 7/9/2000.
Photo by Pam Swan.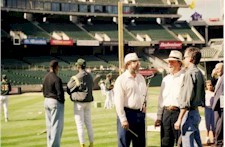 OAT Sings the Anthem. Pre-Game warmup. Joe Gargiola, or at least his southern elevation, lounging in the background. 7/9/2000.
Photo by Pam Swan.


OAT Sings the Anthem. We've never stood straighter or sung louder. Note the fan in the luxury box in the background, trying to figure out what just happened to the glass in his window. 7/9/2000.
Photo by Pam Swan.

---


Early OAT during the Dickens Christmas Fair, along with Amie Hill (no relation to Dale). Amie provided us with much of our initial set list, and aquainted us with EngTrad heavies like John Roberts and Tony Barrand. Thanks Amie, wherever you are!



More Renaissance OAT, knee-slapping in the Great Outdoors.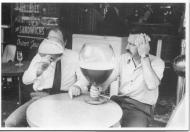 Two of our Heros. Not actual OAT members, but definite contenders.


---